The 2021 Subaru Love Promise Customer and Community Commitment Award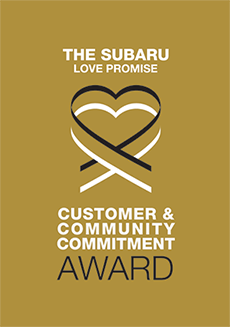 We've been nationally recognized for our dedication to our customers, our community, and the Subaru Love Promise.
We're honored to receive the 2021 Subaru Love Promise Customer and Community Commitment Award. This award nationally recognizes elite Subaru retailers who provide an exceptional customer experience at every interaction with Subaru. These retailers have also demonstrated an outstanding commitment to supporting passions and causes in their local communities in important areas such as the environment, community, health, education, and pets.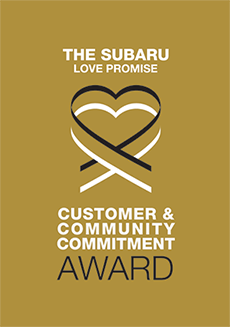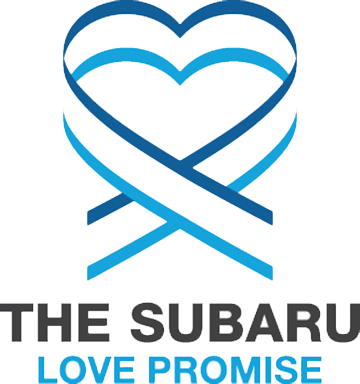 What is the Subaru Love Promise?
Subaru and our retailers believe in making the world a better place and the Subaru Love Promise is our vision of respecting all people. This is our commitment to show love and respect to our customers and to work to make a positive impact in the world.
How is Cross Creek Subaru dedicated locally to the Love Promise?
Our Love Promise can be seen in various partnerships with local charities and non-profits. We're grateful for the opportunity, not only to be a part of our community, but to serve it as well.
Child Advocacy Center, Make A Wish, Meals on Wheels, USO, Hope for the Homeless
Love Promise Stories from Cross Creek Subaru
Subaru and Cross Creek Subaru believe in making a positive impact on the communities in which we live and work. We uphold that belief through our Love Promise Community Commitment. Every month, we select inspiring stories from customers and partners from around our area who strive to support our collective commitment and feature them here
Cross Creek Impacts Hundreds of Military Families - Diana J
Cross Creek Subaru of Fayetteville, North Carolina impacted the lives of hundreds of military families as sponsors for the 2021 RHF Ninja Obstacle Course! Cross Creek Subaru sits in the middle of our All American City of Fayetteville, adjacent to Fort Bragg, largest military installation in the world. Ft. Bragg Soldiers and their families are constantly impacted by the operational tempo of the military mission. The Rick Herrema Foundation is a military non-profit with a mission to strengthen these families and build community through fun, quality outdoor activities. The generous donation given by Cross Creek Subaru to sponsor our obstacle course helped us meet that mission over a course of three weeks allowing hundreds of families to attend this unique and fun event for free. Memories were made, families were connected and community was built as each family came to our outdoor park and met one another. We are forever grateful to the Leadership at Cross Creek Subaru and their sponsorship! We salute Subaru for their Subaru Cares program.
---
Subaru Loves to Care - Olivia P
Subaru has partnered with The Leukemia & Lymphoma Society for Subaru Loves to Care. During the month of June Cross Creek Subaru encouraged their staff and customers to write a Message of Hope for a cancer patient while visiting our dealership. Over 40,000 blankets are being delivered to cancer patients across the country. Thanks to our staff and customers, Cross Creek Subaru contributed over 75 Messages of Hope that will accompany each blanket!
---
CAC Share the Love - Tammy H
The Child Advocacy Center of Fayetteville is incredibly thankful for the partnership with Cross Creek Subaru and the Subaru Share the Love event. The past year has been challenging for many, but the Subaru Share the Love event has provided an incredible opportunity and financial support to the Child Advocacy Center, especially since the CAC had to cancel two of their signature fundraising events. The demand for the services of the Child Advocacy Center has increased over the past fiscal year by 20% and now that students have been back in school, we have seen an increase in referred cases by 7%, a 9% increase in forensic interviews conducted and a 18% increase in counseling clients served. (For the time period of March 13-May 13 2020 compared to 2021.) For the fiscal year ending 2020, there were 876 cases of reported child abuse referred to the CAC. 459 mental health therapy sessions were provided to 74 child abuse victims. 494 forensic interviews were conducted at the center, a 22% increase over the previous year. The donation from the Subaru Share the Love event will have a significant impact on the Child Advocacy Center in being able to continue their mission to collaborate with community partners to prevent child abuse. We are forever thankful for this campaign and partnership and we will continue to provide hope and healing to many children and their families.
---
Subaru Loves to Help - Manna D
Through the Subaru Love Promise, Subaru and its retailers will be donating 50,000 blankets to nearly 600 local homeless shelters across the country in recognition of National Homeless Youth Awareness Month. More than 500,000 Americans experience homelessness each night. As we enter winter with colder nights ahead, staying warm is more important and challenging than ever for the homeless. Cross Creek Subaru had the opportunity to partner with Manna Church and the Manna Dream Center to help people in need this winter. We were able to donate 80 fleece blankets to help the homeless in our Fayetteville community! We hope these blankets will make a big impact on the wellbeing of those less fortunate this winter. #SubaruLovesToHelp #SubaruRetailersLoveToHelp
---
Subaru Loves Pets-4th Annual Pet Adoption - Cross Creek Subaru C
The month of October is #SubaruLovesPetsMonth and it is near and dear to our hearts. We are accepting donations for Cumberland County Animal Shelter till October 31st, and we hosted our 4th Annual Pet Adoption. On October 17th we had the honor of partnering with Tilted Acres Rescue and Adoption for our Pet Adoption Event. Our goal was to get 20 total adoptions, and we ended the day with 16 dogs were adopted and 6 cats were adopted! We had a Live Remote with Q98, food, and our #CrossCreekSubaruFamily grew! Our goal for adoptions was met, now we need help to fill an Ascent in our showroom with pet supply donations! Please bring donations to Cross Creek Subaru till October 31st! Visit http://www.co.cumberland.nc.us/departments/animal-services-group/animal-Services/donation to see a full list of accepted donation items!
---
Subaru make a difference to child abuse survivors - Roberta H
The Child Advocacy Center so appreciates Cross Creek Subaru for their generous donation to enable us to continue to provide Mental Health Counseling services to child victims of abuse. These past months we have experienced an increase in the number of families requesting services and thanks to the generous support of Cross Creek Subaru we were able to expand our counseling slots by 55%. One of the programs offered is group therapy. Following are comments from 2 of the girls that attend Girl's Counseling Group. "This group has helped me gain confidence. The stories of the other girls' struggles helped me see that not everything is bad. Seeing how they come from rough backgrounds and seeing them gain confidence makes me happy. Without group I think I'd have a much harder time with my mental health." "Coming to this group has made me think about the other people that have had or still have problems that they have to deal with. This group has given me the courage to speak out much louder about any type of abuse. Without this group I think I might not be able to cope with the difficulties of my life." Thank you for enabling us to bring help, hope and healing to so many children each year. Roberta Humphries, Executive Director Child Advocacy Center
---
A Subaru filled with LOVE - Debra K
The Friends of the Cumberland County Animal Shelter would like to send a big four-paw salute to Cross Creek Subaru of Fayetteville for being a furrriend to homeless animals of our county. Tails were wagging throughout the entire shelter when they pulled that new Subaru SUV filled with food and treats up to our door to deliver their kind and most generous donation. The shelter animals Thank You from their noses to the tips of their tails (and of course, we thank you too).
---
Make a Dog's Day - Andy A
Subaru is proud to establish the first-ever National Make A Dog's Day October 22nd. As part of Subaru Loves Pets month, we're inviting all dog lovers to do something extra special for their furry best friends. Plus, Subaru will be focusing our efforts on helping the hardest-to-adopt shelter Dogs –those with special needs-find homes. Get ready to fall in love withThe Underdogs. #MakeADogsDay Meet Gabi! Gabi has been at the Humane Society of NWGA (Northwest Georgia) for seven years. If you asked the volunteers to pick their favorite animal at the shelter, Gabi would win hands down. She does not do well with dogs or cats so must be the only animal in an adult only family. She loves people and will bond very quickly to you. Gabi would make someone a great companion. She is waiting patiently for her forever home. If you have room in your heart and your home for this sweet girl then please fill out an adoption application, highlight and right click this link: https://hsnwga.org/adoption/application-for-adoption/?fbclid=IwAR2Ie18p6U3ryKi-niIuIZFTd-waD98xrySl7IJmiRBXE239WP7dpODubiU #MakeADogsDay #SubaruLovesPets #TheUnderdogs
---
Subaru Shares the Love with Child Advocacy Center - Jean H
We are so grateful to Cross Creek Subaru for choosing the Child Advocacy Center (CAC) as the local charity of choice for the 2018 Share the Love campaign. Cross Creek Subaru's generous donation of $27,875 makes it one of the CAC's top five funders! Each year the Child Advocacy Center helps 700 child victims of abuse right here in Fayetteville, NC. One of the services we provide at the center is mental health treatment for the child abuse victims. During these individual and group sessions, the children begin the process of healing from the trauma they have endured. With the contribution from the 2018 Share the Love campaign, we can provide more than 270 counseling sessions. One of our children recently wrote about her group counseling: "What I learned in this group is to always be positive, never let people bring you down." Thank you, Cross Creek Subaru, for partnering with us to make a positive impact on these most vulnerable children!
---
2018 Companion Animal Adoption Event. - Karen R
We want to thank all the employees of Cross Creek Subaru who came out and volunteered and worked so hard to make this event such a success. Brittany worked with our animal rescue organization, Tilted Acres Rescue and Adoptions (TARA) to help over 20 dogs and cats that were pulled out of local shelters find loving forever homes. This was our second year doing this event and we are very grateful for the opportunity to do so. We hope this can be an annual thing because it is a great opportunity for the animals.
---