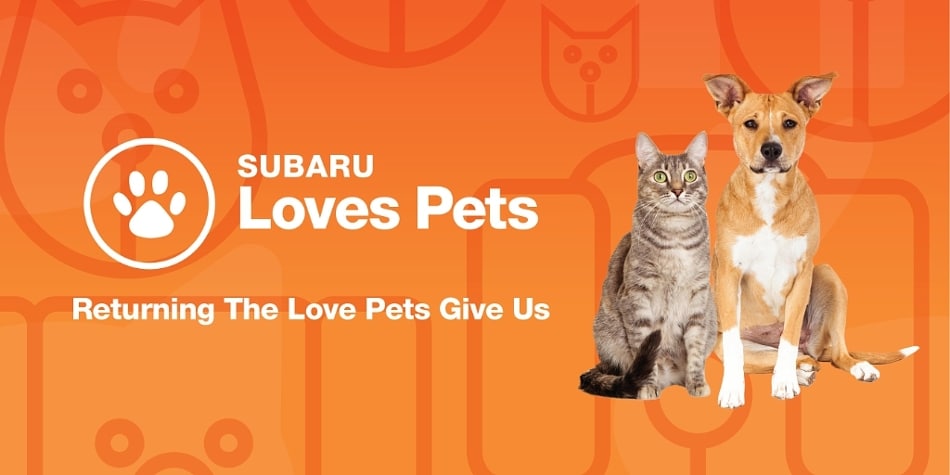 This past Saturday, November 2, 2019, Cross Creek Subaru hosted the 3rd Annual Pet Adoption Event with Tilted Acres Rescue & Adoption (TARA) from Raeford, NC as part of the Subaru Loves Pets campaign. Fayetteville area Subaru Ambassadors joined forces with the Cross Creek Subaru event team, TARA volunteers and staff, and our local Skibo Rd Petsmart to help find homes for 11 dogs and 3 cats! With over half of the animals adopted that came out, Saturday was a busy day filled with smiles and excitement.

The set up team arrived at 8 AM Saturday with a clear sky, and refreshingly cool temperatures. As the foster parents of the dogs and cats arrived, we enjoyed sharing stories about the pets that would soon find their furever homes over doughnuts and coffee. The first adoption (of a cat named Will) was right after opening at 9 AM, followed shortly by an adoption of one of the Saint Bernard/Pointer mix puppies available!

Each adopting family received a gift bag from Cross Creek Subaru, a gift bag from Petsmart and a Polaroid picture of the family with their new addition to take home ! The gifts included, chew toys, doggy bags, tips/tricks on having animals, a Subaru Frisbee, a coupon book from Petsmart to help get supplies, and more!

Members of our Cross Creek Subaru Service team volunteered to help man the grill, preparing hot dogs & chili accompanied by cold sodas, water and a variety of chips for visitors, guests, volunteers and staff members!

By 1 PM, approximately 8 animals had been adopted when a wave of guests came in, the last coming in just minutes before the event was scheduled to end raising the total number of adoptions to 14. Each foster mom/dad celebrated with the new owners of the beautiful pets that found new homes!

We want to thank each Subaru Ambassador who dedicated their time to us Saturday, each TARA foster parent for helping prepare the animals for new homes, the TARA organization for partnering with us again this year, as well as the Petsmart of Skibo, Rd for their participation, each staff member who helped our event staff, our community for helping spread awareness about the event, and most importantly, the families that came out to adopt and provide love to the dogs and cats!!! Congratulations from Cross Creek Subaru!

We hope to find homes for even more animals during our next adoption event! Be sure to follow us on social media to stay up-to-date on current/up-coming events happening! Check out our Facebook here!

For more information about the TARA team, click here.
TARA is a foster based rescue located in Raeford, NC. The TARA rescue was f

ounded to help find homes for animals of Hoke County and later expanded to help the animals of Cumberland County NC.